Step 1: Getting Started
It is entirely free to post and manage your Salons with Gertrude. Start by defining the artist, work and theme you would like featured (maybe you have relationships with artists or an upcoming show?) as well as the type of event you wish to hold. We have
six different events
that you can choose from. Feel free to browse
past Salons
,
review our FAQ
and
sign up to our emails
for ideas. Before submitting, make sure to tie-up all the details (date, time, space, etc.).
Additional resources


Step 2: Submit
To begin, click the 'Curate' link on the top right of any page on the site and click the 'Start here' button. This will take you to a form where you can enter initial details. Fill out all the information of your upcoming Salon: the type of event you want to host, images/videos, indicate thepersons featured at the event, venue and number/price of tickets. Once approved, the Salon will be posted to the website. We recommendsubmitting 1 month ahead, but not later than 10 days before the event.
Additional Resources:


Step 3: Share
By posting your Salon with Gertrude, you will automatically gain exposure to a network of active art enthusiasts. We can provide you with our best practices on engaging with this audience through various outlets. Your salon page includes tools that enable you to share the event via social media or email. Additionally, if you wish to market your event to a select group of people before the general public, we can first publish the event privately so that only those with the link to the event can view it.
Additional Resources: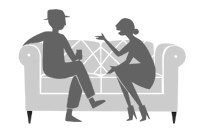 Step 4: Host
With the "Track" option in your curator dashboard you can monitor your event's guest list and the amount of revenue that the event has generated. You can also print your guest list from the "Track" page to have the day of your event. And here's the fun part - holding your event! Guests like an engaging, educational, and fun Salon. We are certain you'll be ready before the day, but it is important to make sure all last minute details are covered: check your required materials or beverages, guest list, visibility of event location, noise quality, punctuality, and delivery. Make sure all your guests are welcomed properly and most importantly, enjoy!
Additional Resources:
Step 5: Follow up
We encourage you to connect with guests during the event and develop relationships. An email will be sent automatically to guests to provide feedback on their experience. We will share these responses through your curator dashboard and work with you to improve your next Salon. Past guest feedback can also be used as testimony to your skill as a curator on our website and as a promotional tool for your next Salon!
Additional resources: